Classic Snapback | Yupoong 6089M
---
The Classic Snapback by Yupoong has a traditional structured fit, a flat visor, and it's made from a premium wool blend. What's more, this classic gem hides a vivid accent—a green undervisor that gives the snapback a pop!
80% acrylic, 20% wool
Green Camo is 65% polyester, 35% cotton
Structured, 6-panel, high-profile
6 embroidered eyelets
Plastic snap closure
Green undervisor
Head circumference: 21⅝″–23⅝″ (54.9 cm–60 cm)
Blank product sourced from Vietnam or Bangladesh
WARNING
Disclaimer: The supplier of this product is switching to a 65% polyester, 35% cotton fabric content for the color Green Camo (previously 60% cotton, 40% polyester). If you order this product from the EU, for some time you might receive a mixed stock of hats with both fabric content.
Embroidery disclaimers
If it's physically possible to digitize your graphic, we'll digitize it. If your design doesn't meet our guidelines, we can't guarantee desirable results.
We use a run stitch for fine details in flat embroidery.
The generated preview on the mockup is for visual reference only and will not always match the final result.
Product measurements
Measure your head circumference with a non-stretchable measuring tape. Place the end of your tape on your forehead and wrap the rest around the back of your head, keeping it 1″ (2.5 cm) above your ears. Pinch the spot where the tape meets the other end, lift the loop over your head, and note the measurement. Be as careful as possible to get the most precise measurement.
Find your size (Inches)
| SIZE LABEL | A | B | C | D |
| --- | --- | --- | --- | --- |
| One size | 20 ⅛ - 23 ⅝ | 4 ½ | 2 ½ | 7 ⅛ |
Find your size (Centimeter)
| SIZE LABEL | A | B | C | D |
| --- | --- | --- | --- | --- |
| One size | 51 - 60 | 11.5 | 6.5 | 18 |
File guidelines
| Placement | Embroidery file size | Embroidery file template |
| --- | --- | --- |
| Front | 13.97 × 5.08 cm | Download |
| Side & back logo | 5.08 × 2.54 cm | Download |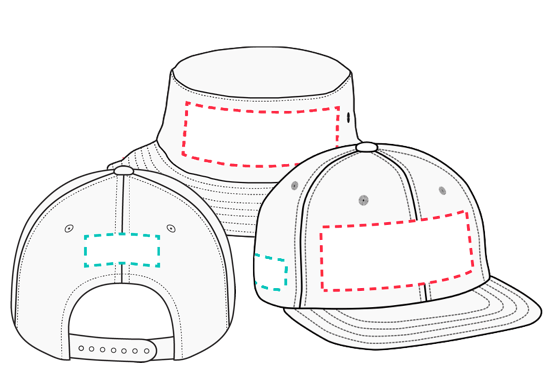 Flat embroidery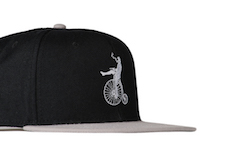 Flat embroidery is a technique where stitches are embroidered flat
Minimum thickness for shapes: 0.05″ (1.3 mm)
We use satin stitch for shapes between 0.05″ (1.3 mm) and 0.5″ (12.5 mm)
We use tatami stitch for shapes thicker than 0.5″ (12.5 mm)
Minimum height for lowercase letters: 0.25″ (6.4 mm)
Minimum height for uppercase letters: 0.3″ (7.6 mm)
Any text smaller than 0.25″ (6.4 mm) in height will be a run stitch
WARNING
Must-follow guidelines
Design true-to-size graphics The graphics you upload must be true to their size on the end product.

Use solid shapes and colors only Don't include photographic images, gradients, fade or blend effects. Elements like these cannot be embroidered.

Use transparent backgrounds Graphics should include transparent backgrounds. Elements outside the main design will be picked up and result in unwanted embroidery stitches on the end product.

Outline your fonts All fonts should be converted to outlines unless your graphic is in PNG format. That way you don't have to send us the font files.

Submit vector files in PDF format We highly recommend submitting your embroidery graphics as vector files (PDF). Raster graphics (PNG) can be used as well if the resolution of the graphic is at least 300 DPI.

Stay within the maximum stitch count If your graphic covers a very large part of the embroidery area, it may exceed the maximum limit of 25,000 stitches (10″ × 6″) or 15,000 stitches (4″ × 4″). In such case, your order will be put on hold.

Remove embroidery file template guidelines If you use our downloadable templates, delete the guide layers before saving your files. If you don't delete them, they'll be embroidered.
TIP
Order samples The best way to make sure your embroidery design looks the way you want is to order a sample of your work. We also recommend ordering an embroidery sample to learn about our techniques and stitch types.
Remember the side and back design option You can embroider a small design (e.g. your brand logo) on the back or either side of the hat. The design will be embroidered in flat embroidery.
Follow our embroidery guidelines Check out this page for the most common embroidery problems and tips on creating the perfect embroidery file.
Create embroidery-unique designs Embroidery is not printing, so most graphics that work on other products won't be suitable for embroidery.
Keep it simple Clean designs with bold lines and text work best for embroidery. If your design is too complex (e.g. contains gradients or intricate details), your order will be put on hold.